As we have now launched the
Bomboozle Lite
(the free version) on the App Store I thought I'd share some of my first experience of the app store.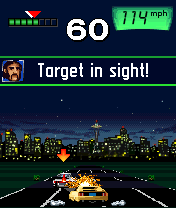 Bomboozle has consistent daily sales however its certainly nothing to write home about. If I compare it Pursuit Squad (which was my first ever commercial mobile game sold), the return on the effort to develop it is quite low. Pursuit Squad, developed in 2002 in the evenings when I wasnt working, if I recall managed to earn about £7000, and bagged a job at
IOMO
(one of the leading Mobile Studios at the time). Bomboozle certainly wont earn me that in the same timeframe, especially as the earnings are split between art, design, code etc. We've yet to see how quickly the sales will drop off with age, this will be the ultimate limiter on earnings. In contrast, some of the mobile games we worked on back when I was at IOMO I'm pretty sure would have almost paid my salary for a whole year!
Another area of interest is App Store pricing. Many people are waxing lyrical about 59p being the ultimate price point. Bomboozle sells almost exact the same at £1.79 (which I think is what it's reaistically worth) and 59p (way too low). The only difference being you make 3 times the profit at the higher price - it's less than a coffee for heavens sake!
Anyway like I said, good news developers you can charge more than 59p for your apps ;-)
The traffic and sales on the App Store, in my opinion are purely related to the discoverability of your app. This makes it vital to get your app at the top of the "Release Date" list so that casual browsers have a chance to see it. Doing this is easier said than done because of some oddities around Release Dates and Submission of App Store Applications.
Spending time sending out press releases to review sites seems to be of utmost importance too, but it's quite difficult to get features amongst so many other games especially if there are larger releases happening at the same time, so time your releases carefully. Spending some time in forums of the various sites seems to be a good move, as does give away promo codes. (I gave away 10 free copies of the game on Touch Arcade forums and that got us some much needed good reviews in the US store).
So... Release Date... for some reason the Release Date of your app is the Date of Approval by Apple OR the Availability Date you set when you post the app
whichever is earlier
. This comcially means that if you set a availability date in the future giving enough time for submission, press releases etc. - your app will have its Release Date set to the time of approval (which could be days before it is set to become available). This robs you off the eyeballs and your rightful place in the first page of "Release Date" listings in the app store - bad times :-(
You can get your app onto the first page by carefully monitoring your emails and iTunes connect. As soon as the app is approve you can set the availability date to that day and then fingers crossed you'll get a shot at that front page ;-)
Finally... we have seen some decent success by releasing the lite version. Mainly I suspect because it drives a whole new set of eyes towards your app. In many cases a free app seems to be the best advert for your main app. Other forms of advertising seem hap-hazard for all but the game fans that are checking the review sites. We were getting thousands of click-through from the ad's in our Flash game.. but the conversion rate is super low as those people are not likely customers. The best bunch of potential customers are the people trawling the app store on their iPhones. A quick note on the iTune affiliate scheme... very low revenue (single digits dollars so far), plus different schemes for each country so overly hard to setup.
So what's the bottom line... don't quit the day job, keep the team very tight, try and get some good press/reviews and most of all use the app store release date and lite version to get some eyes pointing towards your app.
Hopefully the fingers will follow!